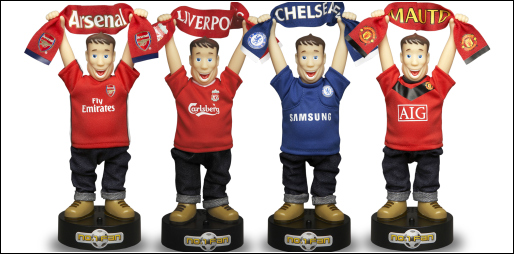 With a whole host of Arsenal-related merchandise out there, it's hard to know which item to buy a loved one, or indeed for yourself. Scarves, mugs and replica shirts are all the norm, but with the new No.1 Fan, there really is no need to waste time looking for anything else.
This 23cm tall figure mounted on a stand wears a replica shirt and is perfect as an accessory to any room, or for banter with your friends. He sings, he dances and is excellent for winding up fans of other teams or as a lucky Arsenal mascot. The little fella is great for children and everyone who loves Arsenal. Still not convinced? well No.1 fan is official Arsenal FC merchandise.
He belts out a selection of famous Gooner favourites, including "Good Old Arsenal", "One Nil To The Arsenal", "One Team In London", "We Love You Arsenal" and "Arsenal, Clap, Clap, Clap!". Priced at £19.99 plus P&P, not only is No.1 fan a great gift, it's superbly affordable. They also come in a range for different clubs, plus an England World Cup special.
The kind makers of No.1 Fan have given Young Guns one Arsenal fan to give away completely free. What do you have to do to win? it's simple. Because No.1 Fan sings songs, we're looking for the imaginative readers out there to create a brand new Arsenal chant. This should be short, but can contain anything Gunners-related. The Young Guns team will select the best one at random.
All you have to do, is send your chant to – youngguns.wordpress@googlemail.com. Alternatively, fill in the form on the Contact page. The subject should be – "Chant". You've got until Wednesday to get your entries into us, and the winner should have their Fan by this time next week. Good Luck!
In the meantime, make sure you check out the No.1 Fan website to check out their whole range plus read their regular blogs. You can also watch videos and download pictures of the Fan.