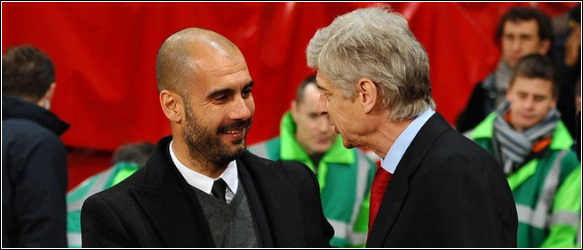 Pep Guardiola has given his blessing to Jon Miquel Toral Harper's transfer to Arsenal. The Barcelona Head Coach spoke about the youngster shortly after Arsène Wenger confirmed the deal for the Spanish Under 16 international.
Guardiola was asked for his view on the controversial signing, in wake of damming comments from Barça President Sandro Rosell. However, he refused to get involved in a war of words, instead choosing to wish the 16-year-old well.
"Only the people who want to stay should stay. We wish him all the best."
Wenger was also quizzed on his latest acquisition during his pre-Carling Cup Fianl press conference, but proved to be his typical bullish self. The Frenchman came out fighting on the allegations Rosell labelled at Arsenal, as a club that simply scout Europe looking to 'fish for 16-year-olds'.
He began by mentioning Toral's English heritage, citing the fact his mother, Sheila Harper, is from Darlington, and that Jon holds a British passport. Wenger then stoked the fire on youth transfers, telling journalists to 'look at how many foreigners at the Barça youth ranks'.
Toral will join Arsenal in the summer.