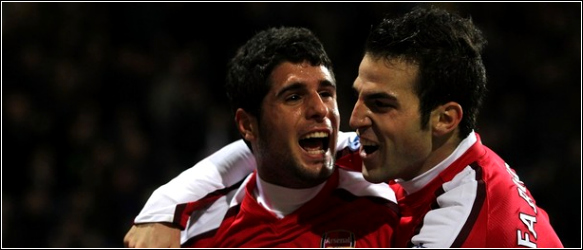 Arsenal's relationship with Barcelona became a little more strained this week, with the news that Jon Miquel Toral Harper will swap Spain for England in the summer. He is the third player to do so in the last eight years.
Cesc Fàbregas in 2003 and then Fran Mérida in 2005 were all prize assets in Cataluñya, but both took advantage of contract rules in Spain to sign for Arsenal. Nominal fees were paid in compensation. Those deals, plus Barça's long running attempts to re-sign Fàbregas, have left a bitter taste between the two clubs.
The story of Jon Miquel Toral Harper is an interesting one, though.
The youngster joined Barcelona's La Masia academy system four years ago, aged 12. He is the son of an English woman from Manchester, who married Reus, a Spaniard who provided language lessons to foreigners. He rose through the youth ranks in Spain and was quickly sounded out as a top talent by the technical staff at Barça. They informed senior members of the board to keep an eye out on the prospect, as they felt he had outstanding potential.
However, relations in the past few months have soured. Toral had previously made it clear he wanted to move to England, much to the anger of the staff that had previously called him "the pearl of the Cadete A side". Chelsea, Liverpool and Manchester City had all previously been in touch, and because of the lack of commitment the player had shown, they refused to make a counter off to make him stay.
Jon's agent is Pep Guardiola's brother, Pere. Contrary to reports, he tried desperately to convince the player to stay, as did technical secretary Albert Puig. Yet when the offer arrived from Arsenal, he refused to listen to either, and signed the contract.
His last game was a few weeks ago, when the Cadete 'A' side faced Catalan minnows UD Cornellà. He scored a hat-trick in that game, but was told he wasn't welcome at La Masia after, with his impending move to Arsenal close to be signed and sealed.
Toral is a deep lying central attacking midfielder. He is comfortable with either foot but predominantly prefers his left. He has been noted for his excellent physique, which has seen him dominate many youth games. Off the pitch, many describe Jon as a mature and hard working young man.
Barcelona are understandably furious with Arsenal signing the Spanish Under 16 international. However, the transfer is not as clear cut as they make out, and with them approaching both Arsenal's Benik Afobe and Chuks Aneke last year, their complaints over the 'poaching' of youth talent smacks of double standards.
Toral will cost Arsenal €350,000 in compensation.
Editors Note: With thanks to David Cartlidge of SpanishFootball.info