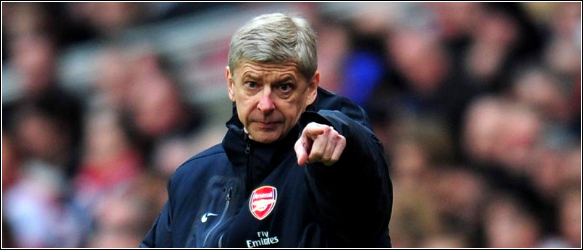 Arsenal's emerging youngsters are some of the most talked about and analysed in world football. The intrigue as to who Arsène Wenger will pluck from the youth ranks and turn into a star next keeps fans and the wider media constantly keeping an eye on those showing even the slightest glimpse of potential.
Wenger shows no signs of ending his infamous youth policy in 2011, so who are the top 10 players that Gooners and those with an interest in the club should be keeping their eye trained on this year? Young Guns will attempt to answer that question.
You can read part two of our two part special on the top 10 Arsenal prospects to watch in 2011 below, with the first part here.

5. Francis Coquelin
Who? – Francis is a holding midfielder who joined Arsenal from Stade Lavallois in 2007. He is currently spending the season on loan with Ligue One club FC Lorient. He's also a French Under 20 international.
Why? – Coquelin has shown he has all the qualities needed to break through at Arsenal, but just needs experience to push him over the line. Lorient have a good record of developing players and Francis will hope to follow the route taken by Laurent Koscielny, who came straight into the Arsenal first-team after a season under Christian Gourcuff's management. A tough and all action defensive midfielder, if all goes according to plan, he'll push offer real competition to Alexandre Song for a first-team spot.

4. Kyle Bartley
Who? – Kyle is a powerful centre back who signed from Bolton in 2007. He has since had two loan spells with Sheffield United, but is at currently with Scottish Champions Rangers on loan. He played Champions League football for Arsenal last season.
Why? – Arsenal are in need of a centre back with height, power and excellent heading ability. Bartley possess all this and more. He's earned mass praise during two loan spells with Sheffield United and now joins Rangers who are battling to win three trophies, including the Europa League. Many believe Kyle is ready for a run in the first-team, and the experience of battling for titles with Rangers should give him an edge as he looks to break through next season.

3. Pedro Botelho
Who? – Pedro is a versatile left sided player signed from Figueirense in 2007. He is currently in his fourth year on loan after failing to win a work permit. He is currently facing an international tug-of-war between Spain and Brazil.
Why? – Botelho's early career has been tarnished by various attitude problems, but he's finally got his game together and looks a fantastic prospect. Comfortable at left back or on the left of a front three, the youngster has been arguably the best player in the Spanish Segunda this season. His tall, skillful and touch-line hugging approach gives him an edge on other Arsenal midfielders. A return to London to finally make his debut in the summer looks inevitable.

2. Benik Afobe
Who? – Benik is a striker who has come through the Hale End Academy system and is now currently enjoying a loan spell with Huddersfield Town. He is also an England Under 19 international and has previously won the European Championships as an Under 17.
Why? – Afobe earned a reputation as a brilliant prospect in Arsenal's Under 16′s, scoring 40 goals in 33 appearances. His move into the Under 18′s was a natural progression, and he shone there, notably scoring in the final as Arsenal retained the league. Elsewhere, a move to Huddersfield Town on loan has seen Benik grab goals in the cup competitions and earn glowing reviews from manager Lee Clark. 2011 promises to be interesting as to whether he'll make the step up into the first team following positive comments from Wenger, or moves on loan again, possibly to a Championship club.

1. Chuks Aneke
Who? – Chuks is a powerful central midfielder who, like Afobe, came through the Hale End system. He is also an England youth international, currently capped at Under 18 level.
Why? – Aneke's rise has been meteoric in recently seasons, and 2011 looks set to be another key year in his development. He almost made the cut to be included in the first-team in the summer, and with another season under his belt, whether Wenger pushes him on or moves him on loan, will decided just how far this talented midfielder can go. Tall, strong, but brilliantly elegant, the future looks very bright indeed for Aneke, but how he kicks on in 2011 will be key in deciding if he'll live up to the mass potentional he has.
You can catch part one here.