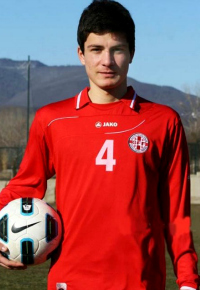 Arsenal's global search for talent is continuing with a look at exciting Georgian defender Nika Chanturia.
The 17-year-old centre back is in the second week of his fortnight stay with the club, and has already left a good impression on the coaching staff. A tall, composed and technical defender, he fits the bill of a classic Arsenal player, and has had no shortage of admirers.
Arsenal were offered a look at Georgia Under-17 captain Chanturia a month ago, by an agency that represents him. I understand that the club are usually against taking players based on recommendations, but he was spotted previously, and the early signs are that he might be a player for the future.
Liam Brady and new reserve team coach Terry Burton are still putting together their squads for the new season, and are on the look out for another centre back for the Under-18's.
Second year scholar Zac Fagan has shown some promise, and has been joined by new scholars Leander Siemann and Tom Dallison.
But Arsenal are hopeful of adding a fourth option before the end of the transfer window, and have already looked at Swedish youngster Linus Wahlquist, who enjoyed a trial last month, but wasn't seen as good enough.
Chanturia though is a highly-rated centre back with lots of ability, but securing him from Georgian side Lokomotivi Tbilisi will be tricky, given he is already in the first-team squad, and would require a work permit.
Arsenal will make a decision on Chanturia next week.