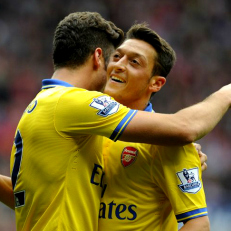 At the time of writing, you can have a go on the Gunners to land the title with the major bookies at around 8-1. That seems pretty good value.
OK, you may be derisorily guffawing at the prospect; sad though that may be.
But ask yourself who will win the Premier League if we don't? Obviously, we have four major contenders – five if you dare to count those at the Lane whose name shall not be spoken. But here's the thing; they've all got problems.
First off, Chelsea are favourites but don't like anything like the real deal of old as yet and their signings have been fairly insignificant in the overall scheme of things. Then we have Man City who are looking decidedly dodgy.
It doesn't take much to rock that particularly impatient ship and Pellegrini will know he's just a couple of defeats away from the heave-ho at any given time.
Next, we have Man United; again, with no significant signings to change the balance of power and under David Moyes who is completely untested at this level.
It's a similar situation on this side of Manchester in the sense that a couple of defeats will shake Old Trafford's foundations.
Then there's Liverpool who are looking much stronger this season but who you can't really see mounting a serious title challenge?
Then finally there's the other North London club who we've already shown who rules here.But seriously – can you really see them having the requisite consistency?
In short, then, there are problems at all our rivals and they're problems that we really don't suffer from, apart from the consistency issue.
But if Arsene is really prepared to concentrate on the league above all other cup competitions including the Champions League – then we have as good a chance as any and that 8/1 surely won't last long.
Of course, if you want a really life-changing win, then you'll have to win the lottery or, better yet, the Euro Millions lottery which has bigger prizes still; click here to see what I mean.
Perhaps if you win – you can treat the Gunners to a new signing in January?