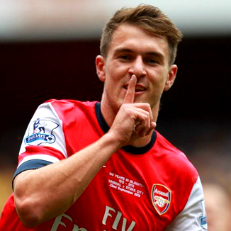 Arsene Wenger has been at the helm at Arsenal for an amazing 17 years now, and thanks to his team's amazing performance is able to celebrate this landmark leading the Premier League.
And the man behind the surge of brilliance is Aaron Ramsey, who has finally come back from his injuries and is proving Wenger was right to have such faith in him.
Ramsey was beleaguered by a broken leg he sustained three years ago when being tackled by Stoke City's Ryan Shawcross.
It's taken a long time for the 22 year old midfielder from Wales to recover but he's now showing exactly why Wenger has had such faith in him all the way.
In fact, it looks like he very much has his confidence back and is going from strength to strength. This will have affected Arsenal's odds to take the title so if you're looking to adjust your favourite make sure you check the odds online at freebets.org/bets before you make your decision.
His team mate Jack Wilshere was quoted as saying that it's taken Ramsey a long time to get the tackle out of his mind. He said: "He can remember that horror tackle.
That's a tough thing to get over and that might have stayed in his mind for a while, especially when going in for a 50-50 ball. But he's over that now and he's a key player for us."
Ramsey demonstrates incomparable fitness levels, which means he can keep his attacking force up throughout the entire 90 minutes. And there is no doubt he has helped Arsenal win their last eight matches, a winning streak that began back in March.
It could be time for Arsenal fans to believe that this year could be their year – it looks, from this relatively early vantage point, that Arsenal have everything to play for and could take the long wanted title for 2013/2014.
Wilshere does urge caution though. He said: "It's nice to look at the table and be top but it's only a good start. Momentum is key in this league. We failed in the past to capitalise when other teams lost but this time we did."
Their latest win was against Swansea, and again Ramsey played a blinder. Along with Ozil, Giroud and Wilshere, Ramsey stormed through the defence and scored his eighth goal out of the last nine games.
It'll be interesting to see where the rest of the season can take Ramsey – it certainly looks to be his year.