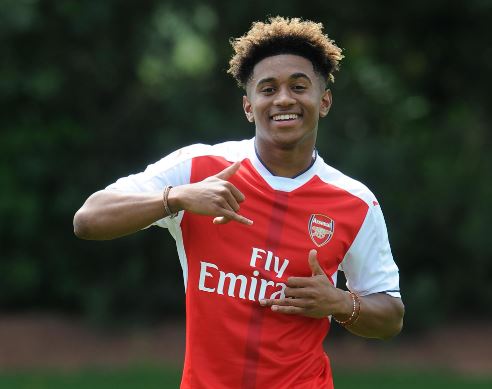 Reiss Nelson has long been considered one of Arsenal's most exciting youngsters – and now he's showing it with the Under-18s on the brink of winning the title.
Nelson, who has suffered injuries at times this term bagged a stunning hat-trick last week against Blackburn Rovers youth team.
It was a crucial result, and all of the goals had that star quality that shows what a top talent he really is.
The first one was a tidy turn, using his strength, before a stunning long-range finish from 25-yards on his right foot. It picked up amazed gazes from his teammates and the small section of onlookers also looked amazed.
It was top quality, just like happyluke so you should definitely check it out.
Nelson is a stylish winger who has great pace, energy and a real eye for goal. He's a real mix between Alex Oxlade-Chamberlain and Alex Iwobi, combining skill and genuine star talent with work rate that you don't often get in a wideman.
He's trained with the first team on a number of occasions and that's exciting, given that's he's still incredibly young.
Arsenal have had a host of brilliant talents in recent years and it looks certain that Nelson will be next off the production line.
Where will be play next? Well some bench appearances in the Cup next season could follow, before kicking on in either the FA Cup or potentially a loan spell after Christmas, allowing him to add to his development.
Then a return to the Arsenal first-team setup this time next year.
An exciting 12 months ahead.