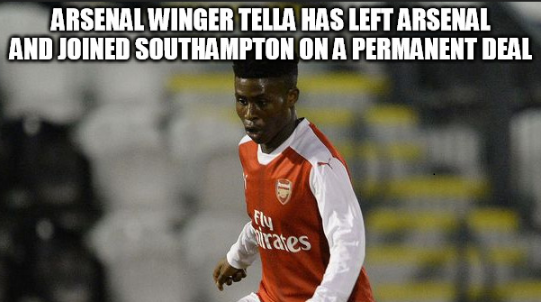 It is going to be a huge rebuilding job at the Emirates for whoever is in charge come the start of the new campaign. With the clubs key personnel including the manager along with star players Ozil and Sanchez yet to decide their future, the heart could be ripped out and need emergency surgery to fit it. One player that has just confirmed that he has left Arsenal is Tella who has joined Southampton on a permanent basis. The young winger could be one of many that leave during the summer months.
Tella has been able to join Southampton due to The Gunners telling the young winger that his contract with the club would not be extended at the end of the campaign. The player has been at Southampton on trial which he confirms early in the month. Things have gone well for him at Southampton and were keen to join them. Arsenal has not stood in the player's way and has allowed him to leave. He has been at Emirates for a decade but has never reached his full potential due to a lack of playing time.
Tella is only 17 years old and has bags of potential to make it to the very top. If he is going to do it he needs playing time at one of the clubs in the EPL so he can develop into a top class winger. With Southampton's policy of developing young talent, it is a great match for the midfielder and it will give him the better chance of getting regular playing time.
Tella is a player full of promise but presently he will not be missed as Arsenal have plenty of quality player that play in his position. If however both Ozil and Sanchez leave, this will completely destroy a team that is built around the two star players. Ozil is the most likely one out of the two that will stay due to his huge wages and lazy attitude that will put off a number of the top teams that can afford his salary. The bigger loss will be Sanchez and he is a player that will be extremely difficult to replace. Without him, the team will be a lot weaker which is something they cannot afford as they are already going to struggle to qualify for the Champions League next season.
A growing number of Gunner Fans want to see manager Wenger resign from his position as manager but the rumors are that he is determined to stay. If the club does not qualify for the Champions League the pressure will mount and it is hard to see him staying. Their form both in the EPL and Champions League has been dreadful since the turn of the year and if things do not change fast they are in danger of falling apart.
With so much uncertainty at the club, it will hinder their chances of qualifying for the Champions League. One wager that is worth considering is for both Arsenal and Man U to fail to qualify for next year's competition. If you do fancy putting some money on this make sure you get a £30 free football bet with one of the top bookmakers.