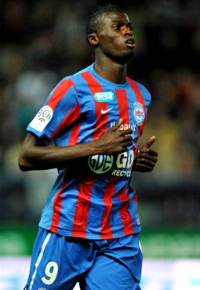 Take Robin van Persie out of the equation, and it's been a very good summer so far for Arsenal.
Top targets Lukas Podolski and Olivier Giroud have been acquired, while deals are at an advanced stage for midfield cavalry in the form of Santi Cazorla and Nuri Şahin.
But Arsène Wenger looks set to miss out on his luxury signing – 17-year-old French sensation M'Baye Niang – after failing to agree a deal with Caen.
Wenger was excited and then impressed after bringing Niang to North London for a trial last month, and has been keen to find an agreement to buy the young striker.
However, his opening £5 million bid was rejected a fortnight ago, and despite talks re-opening last week, the two clubs are still struggling to agree terms.
Arsenal's first offer was a package worth £5 million, which was snubbed with Caen valuing the player at £7 million. Wenger has indicated he is happy to move closer to that figure, but is only willing to put £2 million up front, with the rest to following in bonuses.
Caen are refusing to budge, and want all the money up front, despite Niang telling them he is desperate to move to Arsenal.
Yet that is now looking an unlikely proposition, with AC Milan close to striking a deal. Talks have progressed with Caen over the weekend, and the two clubs are confident a transfer will go through.
The news will come as a disappointment for Wenger, who had been keen to land Niang, but believes he requires work to reach his potential, and is unwilling to gamble a huge amount of up front.