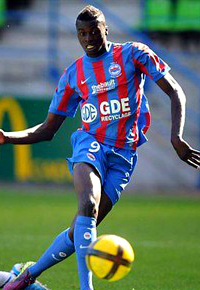 He's young, French and relatively unknown – if M'Baye Niang is not a classic Arsenal signing, he is at least a stereotypical one.
A 17-year-old striker from French minnows Caen, Niang has not only been talked about as a new Thierry Henry, but also a candidate to be the next iconic Les Bleus number nine.
They're big predictions, for a big prospect. I first stumbled upon Niang midway through last year, when, as a burly 16-year-old, he played 7 times for the Caen first-team, and scored three goals. The club have produced the likes of William Gallas, Jérôme Rothen and Mathieu Bodmer in recent years, but Niang is something else.
He had offers to go last summer, but eventually stayed. A full season of first-team football was the reward, and while Niang played more games, he scored just twice, as Caen were relegated to Ligue 2.
It was quite an experience, but one that did little damage to his stock. Arsène Wenger was recommended Niang by France scout Gilles Grimandi last month, and soon used his vast contacts and influence to sort out a trial.
Niang returned to his homeland over the weekend, having left an impression.
He badly lacked fitness, but Wenger was impressed with his attitude and application, and earlier this week, a bid worth up to £5 million was lodged with Caen. It was rushed, as news spread that the player was available for trial. Manchester City, Tottenham and now AC Milan have all made enquiries over a deal.
Caen have since turned down Arsenal's bid for Niang, and they are yet to return with a second offer. Arsenal like the player, and believe in his potential, but don't want to spend a fortune on somebody they believe will require a lot of work to be ready for the first-team.
Niang is tall, strong and powerful, and be adapted into pretty much any type of striker. A target man, a poacher – even a number 10, but question marks over his concentration and finishing still need to be answered.
I covered Niang in The Independent in November, and believe he would be a sound acquisition for Arsenal. The question is, will Wenger go against the betting and stump up extra for the player, or risk losing him to a top four rival? The ball is in his court.